I Want To Break Free @ Platform
Date:
15 October 2018 to 17 October 2018
Where:
Platform
The Bridge
1000 Westerhouse Road
Easterhouse
G39 9JW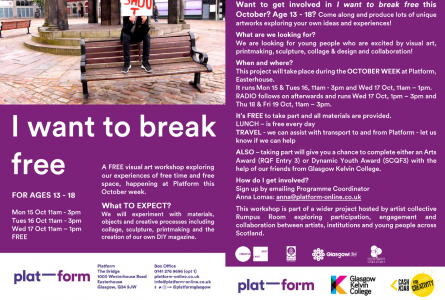 About this Event
Experiment with materials, objects and creative processess including collage, sculpture, printmaking, and the creation of a DIY magazine.
This event is free to kids age 13- 18.
Lunch is free every day. Please contact the venue if you require assistance with travel arrangements.
For more information, visit Platforms website at www.platform.co.uk.